Testing and Certification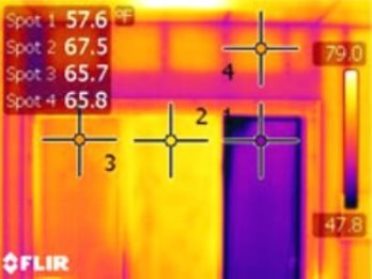 Reduce Heat loss in Winter
This infrared image was taken on a day when the outside temperature was 48°. The right side (point 1) shows the cold 57° glass, (point 2 & 3) shows the inside temperature of the In'Flector material, (point 4) shows the inside wall temperature at 65°. The inside thermostat was set at 69°. Notice how the In'Flector material temperature is slightly above the inside temperature of the insulated wall, demonstrating the extraordinary thermal barrier performance.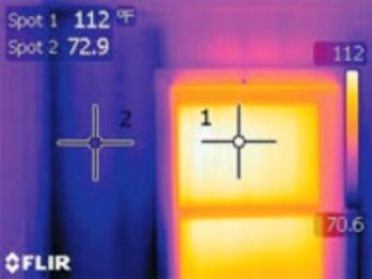 Generate Heat from Sun in Winter
This infrared images shows the In'Flector material installed on a double hung window that the sun is shining on. Notice the wall temperature at 72.9° and the solar gain temperature on the inside of the In'Flector is 112°, providing 39° of added heat to this room. The outside temperature on this day was 24°.
Once you install an In'Flector panel on your sun exposed windows, you will have added heat when the sun shines and by simply reversing the panel in the summer, you reflect the solar heat away from your living space.